Testimonials and Articles
Richard met the Ressala band from Egypt at the "Awesome Africa" festival in Kwa Zulu Natal.
Their web Site: www.ressalaband.com
They were so impressed with the flutes that they bought five of them.
They chose G, A, Bb, C and d major flutes.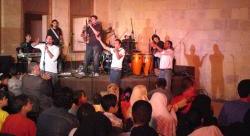 Richard also met up with Sid Kytchen (South Africa's answer to Bob Dylan) at the stall too.
—————————————————————————————————————-
Dear Richard,
I collected my flute on Saturday morning and yesterday got a chance and had about an hour practicing (took about 10 minutes to get the first note though). I am busy doing the scales at the moment and having a great time. My dogs sit close by and just watch – I think they rather like the sound. I always wanted to learn to play the flute even as a child and I got a music scholarship (unfortunately they insisted on my playing the clarinet – which I really didn't fancy at the time so I quit after a few weeks) I was so impressed to have found your web site, and now have a chance to learn an instrument I have always wanted to play (and at such a reasonable cost). Congratulations on a great concept.
Thank you so much and I will keep you posted as to how it is going.
Best Regards
Catherine Konig
Contact Details:
Richard Harrison
First Flutes
Cell: +27 83 440 2111
Email:  richard@firstflutes.co.za
All equiries must be made by SMS, WhatsApp or call Richard on +27 83 440 2111